Beyerdynamic - DT 700 PRO X (Unboxed)
Closed Back Headphone For Audio Professionals
Designed & Made
in Germany
Headphone Zone Certified Unboxed Units
Unboxed units are as good as new products with the product's packaging being unavailable. These products give you the same satisfaction of new products - but at down-to-earth prices. Usually, the product's packaging may have gotten damaged in transit. Customers use a product once or twice and then return it with opened up packaging.
Customer Returns
Returned headphones are fully functional products that have left the warehouse and therefore can no longer be sold as new as their packaging has been opened. The product may have been used once or twice by the customer who returned it.
Transit Damages
Sometimes we receive headphones in damaged packaging due to shipping accidents. These are brand new headphones with cosmetic flaws on the packaging.
Save Upto 15%
Since you won't get the original packaging, we give you a good discount compared to a new headphone.
Professionally Inspected
A thorough inspection means you receive a 100% working headphone with no sound output issues.
Original Warranty
All unboxed headphones carry the same warranty period as a brand new headphone would.
Unbiased Customer Service
We have the same Headphone Zone customer support experience for Unboxed Products or new products.
Unchanged Replacement Policy
Received a defective Unboxed unit? Return it under our Replacement Policy.
ALL Original Accessories
The unboxed headphones itself comes with all original accessories.
REDESIGNED FROM THE GROUND UP TO DELIVER HIGH PERFORMANCE
Beyerdynamic presents the all-new and upgraded DT 700 PRO X closed-back headphones. Featuring a circumaural design with upgraded drivers and a sound transducer, the DT 700 PRO X allows you to let your creativity run free. These headphones are developed and produced in Heilbronn, Germany, maintaining the high quality of the Beyerdynamic brand. The new DT 700 PRO X is suitable for flexible use in the studio and even on the road. The DT 700 PRO X is must-have equipment for a creator who wants to work on their music always and everywhere and experience the best sound in studio quality.
FEATURING A NEW TRANSDUCER, MAGNET AND DIAPHRAGM TECHNOLOGY
The Beyerdynamic DT 700 PRO X features the newly developed STELLAR.45 sound transducer that delivers the trusted Beyerdynamic sound. This transducer works in harmony with a neodymium ring magnet as well as the copper-clad high-tech wire. With these implemented, the trade-off between electrical conductivity and the weight of the wire is unique and delivers revealing clarity. This redesign, in combination with the newly developed three-layer speaker diaphragm featuring an integrated damping layer, has created a highly efficient driver system that performs superbly on all playback devices.
REDESIGNED MEMBRANE STRUCTURE TO DELIVER PRISTINE AUDIO QUALITY
The innovative membrane structure of the new Beyerdynamic DT 700 PRO X controls the axial motion of the voice coil and ensures that it remains securely positioned in the magnet gap even during high oscillations. Another benefit of this is the vast and natural frequency response. The fast response of the transducer and the detailed transient response, produced by the low coil weight, create a sound that is always reliable and distortion-free even at high sound pressure levels.
OFFERING UNMATCHED FLEXIBILITY WITH A WIDE RANGE OF PLAYBACK DEVICES
The Beyerdynamic DT 700 PRO X has been engineered to offer unparalleled compatibility with various devices like audio interfaces, laptops, tablets or mobile phones. This is made possible with the inclusion of the new high-performance STELLAR.45 driver, which offers an impedance of 48 ohms and reproduces sound at volume and power familiar to levels of studio-quality on all playback devices. More flexibility is felt with the included detachable mini-XLR cable, which is thoughtful and allows for upgradability. The wide range of compatibility offered by the new DT 700 PRO X allows you to unleash your creativity anytime, anywhere.
MINIMAL DESIGN AND HIGH-QUALITY CRAFTSMANSHIP FOR A COMFORTABLE FIT
The new Beyerdynamic DT 700 PRO X showcases a minimal and essential design. Thanks to its robust design and high-quality materials utilised, these headphones distinguish themselves by providing maximum durability. The metal headband, fibre-glass reinforced plastic body, the robust mini-XLR connector and resistant cables equip you for every professional application. The sturdy spring steel headband design assures a secure fit and ensures durability. The supple velour ear pads are soft to the touch and guarantee superior isolation. The headband ergonomically adapts to the shape of your head with the aid of memory foam and, like the ear pads, can be replaced if required.
COMES WITH A DRAWSTRING BAG, SWAPPABLE ADAPTER AND TWO CABLES
The Beyerdynamic DT 700 PRO X ships with much-needed accessories and an easy to store drawstring bag, making it easy to carry the headphones. There is one drawstring bag included with two connecting cables - one with 3-meter length and another of a shorter 1.8-meter length. These cables feature a 3.5mm stereo jack for easy connectivity and the headphones also ship with an additional 1/4" adapter to connect them to devices with a balanced connection. This is thoughtful and reduces the need to buy extra accessories.
EXQUISITELY HANDCRAFTED AND SUSTAINABLY MADE IN GERMANY
The new Beyerdynamic DT 700 PRO X headphones have been designed for daily use in challenging conditions. This is why they are handmade in Heilbronn, Germany, using premium quality materials. If required, nearly all the headphones' components can be replaced, turning these headphones into an investment that makes sense for every creator. The Beyerdynamic DT 700 PRO X is a well-spent investment for every creator, with a focus on sustainability and durability.
AUDIO SPECIFICATIONS
DRIVERS
STELLAR.45
IMPEDANCE
48Ω
NOMINAL SPL
100dB SPL (1mW/500Hz)
FREQUENCY RESPONSE
5 - 40,000Hz
CONTROLS & CONNECTIVITY
PLUG TYPE
Gold plated stereo jack plug (3.5mm)
1/4" adapter (6.35mm)
CABLE TYPE
3m & 1.8m straight cable
MICROPHONE

No

COMPATIBILITY

Universal
DESIGN & BUILD
| | |
| --- | --- |
| TRANSMISSION TYPE | Wired |
| OPERATING PRINCIPLE | Closed Back |
| WEARING STYLE | Over-ear |
| SOUND COUPLING TO THE EAR | Circumaural (around the ear) |
| EARPADS MATERIAL | Velours |
| WEIGHT | 350g (without cable) |
IN THE BOX
| | |
| --- | --- |
| WHAT YOU WILL GET | 1. Beyerdynamic DT 700 PRO X Headphone |
| | 2. 3m & 1.8m Mini XLR Cable (mini stereo jack 3.5mm) |
| | 3. 1/4" Adapter 6.35mm |
| | 4. Drawstring bag |
| WHAT YOU WILL NOT GET | 1. Original Packaging of Beyerdynamic DT 700 PRO X Headphone |

90 Years of Delivering High Quality Sound
The story of Beyerdynamic begins in 1924 in Berlin when an electrical engineer named Eugen Beyer decided to start his own company to develop speakers for cinemas. It is his 'Elektrotechnische Fabrik Eugen Beyer' that proved to be instrumental in the formation of the world's leading manufacturer of headphones, microphones and conference systems and eventually became Beyerdynamic as we know it today. For more than 90 years now the Beyerdynamic has been abiding by the company's tradition, vision and the values of its founder.
Made in Germany with Pride and Passion
Each product under the umbrella of Beyerdynamic is a manifestation of the company's dedication for innovation and advanced technology. Therefore 'Engineered in Germany' is not just a tag but a promise made by Beyerdynamic to its users that ensures the best of quality. Most of the Beyerdynamic products are developed by Beyerdynamic engineers and designers in Heilbronn which are then mostly handcrafted by around 220 highly skilled employees in Germany. Each product is a result of passion and knowledge which is aimed towards delivering an ultimate music listening experience.
Modern Day's Beyerdynamic
Today Beyerdynamic offers a wide range of audio products including high-quality headphones and microphones for professional, stage and personal application. Beyerdynamic has become an ideal choice for the best sound on the go. Additionally, Beyerdynamic's conference technology is widely used across conference centres around the world.
Beyerdynamic's Mission Statement to Develop High Grade Professional Audio Products
The core mission of Beyerdynamic lies in developing and manufacturing high grade professional audio products. This vision of the company is to be a specialist manufacturer concentrated within the headphone and microphone market. Beyerdynamic will revamp its functioning to incorporate innovation, high-grade manufacturing, excellence in customer service, enhanced profitability and to motivate their employees to perform the best. At Beyerdynamic, a highly qualified team of engineers are employed for advanced research & development work to ensure that Beyerdynamic leads the audio industry.
Tesla Technology for Awe-Inspiring Transparent Sound
The Beyerdynamic Tesla Series of headphones are surely one of the most efficient handcrafted headphones in the headphone history. The Tesla technology is unique to Beyerdynamic and consists of all newly redesigned transducers, robust magnetic drive and awe-inspiring transparent sound. This technology sets Beyerdynamic class apart from the rest of the headphones around the world.
The warranty period on all Beyerdynamic products is 2 years. For more warranty details click
here
.
No, the Beyerdynamic DT 700 PRO X does not come with a mic since it is more of a studio monitoring headphone.
It is a closed-back over-the-ear headphone which gives a natural isolation.
The PRO range contains classic world-renowned studio headphones that are great for producing, mixing, mastering and other studio tasks. But you really do need to use a high-quality amplifier or audio interface to get the most out of these headphones.
Thanks to the STELLAR.45 driver, The PRO X range are going to sound excellent in the Studio, plugged into an interface or amplifier – but you can also use them on the go if you plug them into a laptop or a smartphone as they are going to turn up very loud.
On top of that the comfort and the overall mechanical design was increased and a removable XLR cable was added that can be swapped out depending on what you're doing.
The two headphones differ in their acoustic design and thus also in their sound profile.
The DT 700 PRO X has closed-back earcups, which gives excellent sound isolation if you're recording, and you also get a tighter and more focused soundstage.
The DT 900 PRO X have open-back earcups, which open up the soundstage and provide a rich and wide stereo image.
With their closed back design, the DT 700 PRO X are best suited for professional recording and monitoring, either in the studio or on the go. Due to their excellent sound isolation, they can be used universally for music production, recording or live performance.
No. The Beyerdynamic DT 700 PRO X headphones will sound brilliant right out of the box.
Beyerdynamic DT 700 PRO X comes with supple velour ear pads that are soft to the touch and guarantee superior isolation, hence making them perfect for a longer duration of music listening.
2 Year Warranty
Don't sweat it, this Beyerdynamic - DT 700 PRO X (Unboxed) comes with a warranty from Beyerdynamic that covers manufacturing defects. All products featured on Headphone Zone are backed by an original manufacturer's warranty.

Read more about Beyerdynamic's warranty in India.
9/10 CHOICE AWARD
MusicTech
Oct, 2021
Best Studio Headphone for Creators
This dt 700 is a closed back headphone which makes it perfect for voice over artists and content creators, because unlike an open back headphone sound will not spill out of these and get picked up by your microphone while your are recording and monitoring voiceovers. But the downside of having a closed back is that the soundstage is not as open as open back heaphones like the 900 pro x's.
However, the soundstage in this 700 was pretty wide for a closed back headphone.But what i really loved about this heaphone was the bass response. The bass is this heaphone is great. It doesnt sound boosted or boomy at all. it just sounds more full. When you see the frequency response graph there is a dip at around 250 hz which helps cut through the muddiness around the low mids. however The mids in this heaphone is great, its intelligble, clear & trasparent but when it comes to the highs i noticed roll off at around 10000hz. i wish there was abit more treble overall. Maybe its because of thick earcups that some of those highs are attenuated.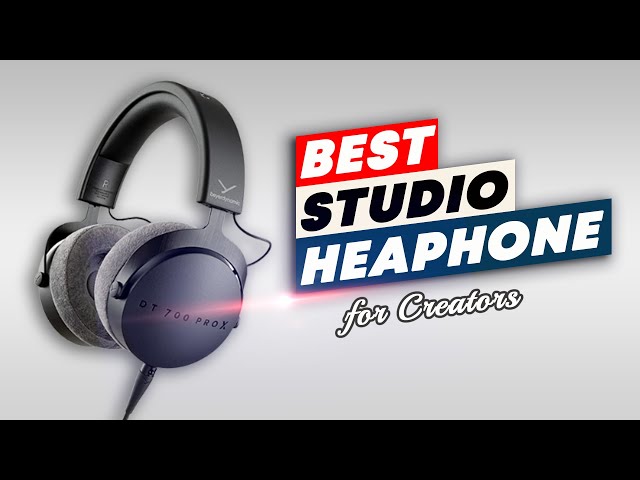 These Wired Headphones Are Great Options too
OUR HEADPHONE GURU'S TOP RECOMMENDATIONS FOR YOU
More From Beyerdynamic
OUR HEADPHONE GURU'S TOP PICKS FOR YOU
Thank you Headphone Zone team for timely delivery especially in this situation and bringing this product to India I recommend everyone to check this one before considering other alternatives in the market.
Good Purchase with Good Delivery Experience!!! Delivery Experience - Extremely satisfied. The packaging was sufficient and delivered 2 days before the committed delivery experience. Delivered in almost 48 hrs.
Good and quick delivery from Headphone Zone and would recommend others to buy from them too. No issues from their end whatsoever.
Amazing support from the Headphone Zone team, this is my second product purchase. Delivery at critical times (COVID19), is just awesome, received my headphones one day before the committed time. Kudos to the team.
It's one of the best sites to get premium quality headphones. Their service is unparalleled!! Would recommend 10/10. A Grade service!!
Experience was smooth. The Headphone Guru was kind and answered all my queries. The delivery was super fast. The product is genuine This is my go-to destination for everything audio from now on.
UPCOMING EVENTS
COMING TO A CITY NEAR YOU!
Get ready to put on some headphones, grab your mugs and rediscover your favourite music like never before. With a lineup of the world's finest headphones, food, beverages, music and conversations to share with friends and strangers alike, Headphone Connect is back!
WELCOME TO OUR HEADPHONE FINDER
Meet our Headphone Gurus.
They obsess over every headphone so you get the perfect one. They have spent years reviewing & listening to countless headphones every day. Our Headphone Gurus are the go-to guys for everything audio.

Our Headphone Finder puts together their top recommendations. In 4 easy steps, find the perfect headphones for you.