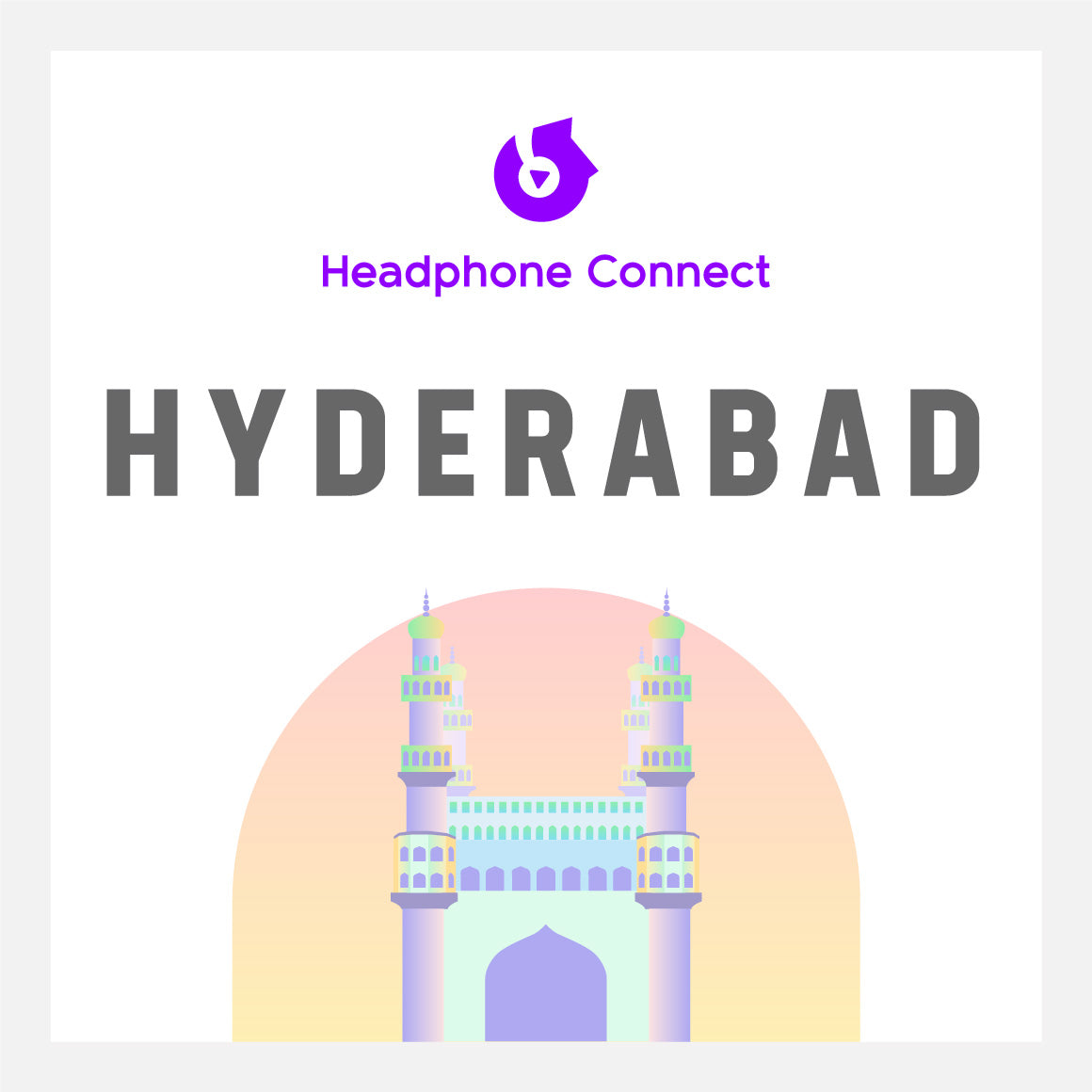 Headphone Connect Hyderabad
---
GET 18% GST INPUT
One of the reasons headphones and earphones in India are more expensive than overseas is because of the Goods & Services Tax in India.

Don't let the GST input go to waste especially if you can avail an offset.

All products sold on Headphone Zone carry a GST compliant invoice and all products sold include an 18% GST.

Simply enter your GST number at the time of checkout.
Browse EMI Plans
Tenure Interest% Installment Interest

3

16%

₹ 513

₹ 40

6

16%

₹ 262

₹ 71

9

16%

₹ 178

₹ 102

12

16%

₹ 136

₹ 133

18

16%

₹ 94

₹ 197

24

16%

₹ 73

₹ 263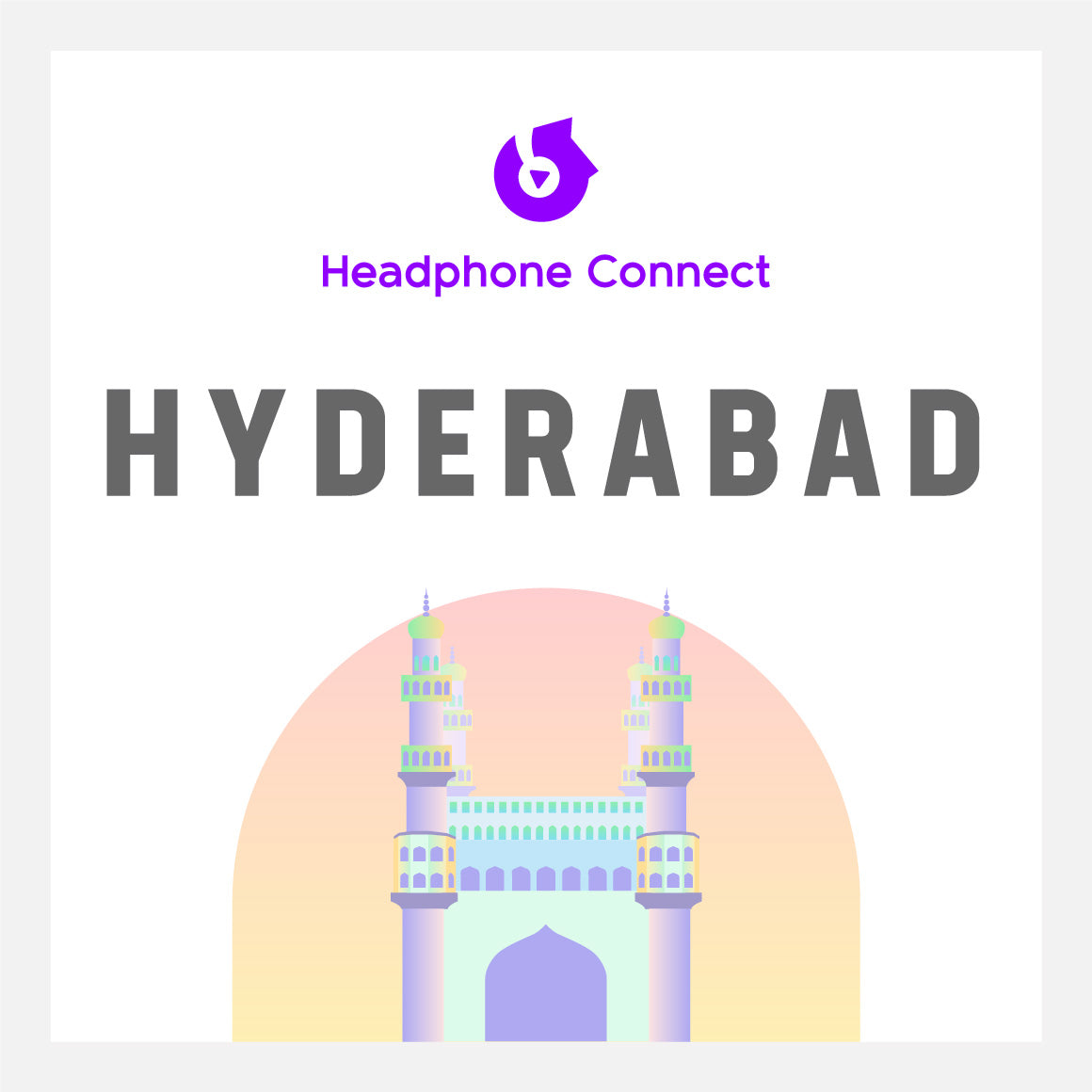 Headphone Connect is India's biggest community event for Audiophiles and Headphone enthusiasts. First hosted in 2015, Headphone Connect is a unique audio show and community meetup combined in one. Headphone Connect features the world's finest Headphone brands coming together to showcase the latest from the world of high-end personal audio, headphones, and portable sound. Join the Indian audiophile community for to meet and share with fellow audiophiles from across India. Rediscover your music and listen like never before.
Experience Music Like Never Before
Headphone Connect is India's biggest personal audio event, with the finest high end audio brands on showcase with the latest in personal audio technology and products available for India's discerning music listeners and audiophiles.
Whether you're a seasoned audiophiles or beginner enthusiasts who is new to the hobby, the only qualification needed to join us at Headphone Connect is a love for music, and the passion to listen it better
A BYOG: Bring Your Own Gear Event
Headphone Connect is India's biggest personal audio event, with the finest high end audio brands on showcase with the latest in personal audio technology and products available for India's discerning music listeners and audiophiles. Whether you're a seasoned audiophiles or beginner enthusiasts who is new to the hobby, the only qualification needed to join us at Headphone Connect is a love for music, and the passion to listen it better.
8 Years Of Connecting Audiophiles
Headphone Connect started as a bunch of friends who came together to share their music in 2015, but quickly grew to become India's biggest audiophile community event. Since then, Headphone Connect has had 30 successful events across India, with over 2000 patrons having attended our community events.
8 Reasons To Be At Headphone Connect
Headphone Connect started with a bunch of friends who came together to share their love for music and quickly grew to become India's Premier Audiophile Community event. Headphone Connect is an oppo...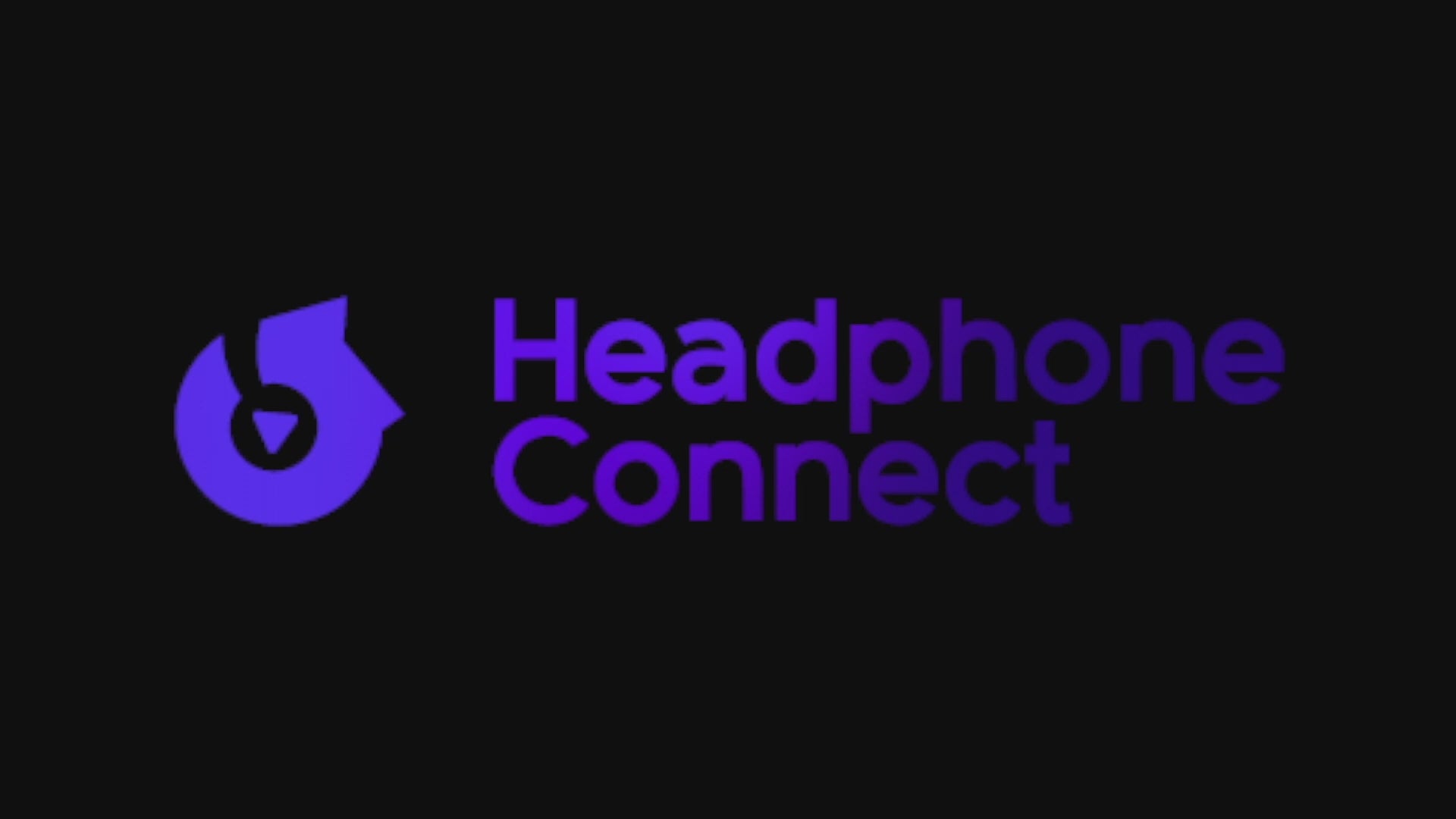 In one word the event was "Grand" in terms of venue, collection of sound gears & hospitality of HPZ gurus. Had an opputunity to try out some of the best IEMs of the world. Truely a mesmerizing experience. Wish I got some more hours to listen & experience those world class IEMs & headphones. Waiting eagerly for the upcoming HPZ Connect event at Kolkata.

Only One Sentence, It's Blown My Brain. I was really and thoroughly enjoyed each and every moment on that day. It helped me a lot to learn the difference between normal audio and premium audio. And it also gives me new friends me . Thank you so much headphone zone team, love you all.
I would say that whoever has gone to any of the Headphone zone connects would agree that it is an "exciting" event. Exciting in terms of the exotic equipments they bring in, in terms of the like minded people that we meet and greet and in terms of overall listening experience that we get.
It was a fantastic experience meeting all the audiophiles around the city and the wonderful team of headphonezone who has assisted me with the best options in choosing IEM's and other audio gear. Looking forward to join more. Best part was getting to hands on flagship headphones with the rad portable amplifications.
Don't Miss It! I want to thank Raghav and his team for organizing this event in great manner. Not just wonderful gears but the team behind those gears were even more wonderful explaining, connecting, assisting every request, they were patient, knowledgeable and friendly.

Felt Like I Was In Different Universe. Till I entered the headphone connect, I thought I'm enjoying music in right way.. then after felt there is an different universe which missed to experience.. thanks headphone zone to let me experience that universe.
How much does a Headphone Connect Access Pass cost?

A Headphone Connect Access Pass costs Rs. 1,499.
What does the Headphone Connect Access Pass include?

In a nutshell, it's your passport to an audiophile's paradise. It's your chance to reconnect with your beloved music on some of the world's most exceptional headphones, often referred to by many audiophiles as "priceless." Beyond experiencing headphones and IEMs, you'll have the opportunity to connect with like-minded individuals who share your passion for sound and form new friendships. The Access Pass also treats you to a delightful High Tea experience.

Do I need to get my set-up along?

It is a BYOG (Bring Your Own Gear) event. You're welcome to get any audio gear you have along. If you're carrying a desktop setup, you can setup your systems on our community table. Kindly carry your extension cords. This event is all about sharing.
Is Headphone Connect only open to audiophiles?

Headphone Connect is all about interactions and discovery. Both seasoned hobbyists and casual listeners are welcome.
What headphones can I listen to?

 We have gear from some of the finest brands in the world like Astell&Kern, Audeze, Beyerdynamic, Chord, Campfire Audio,The team carries 400 KGs of headphones, IEMs, DACs and DAPs to the event. The IEM bar (incidentally the most happening area at the event) has over 50 IEMs from brands like 64 Audio, Vision Ears, Noble Audio, Unique Melody, FiiO, Sennheiser, 7HZ, Final Audio, KZ, Moondrop, 1Custom & more. We have also dedicated tables for Headphones from Audeze, Beyerdynamic, Sennheiser, STAX, Meze Audio, HiFiMAN, Focal, HEDD Audio, Dan Clark Audio. World class headphones are driven by the finest amps and DACs from brands like Chord Electronics, Burson Audio, Schiit, TOPPING, iFi Audio. The IEMs are driven by High Resolution Digital Audio Players from brands like Astell&Kern, Cayin, FiiO, iBasso and Shanling. Honestly, you'll have to keep the entire day free so that you can make the most of the event.
There's a particular headphone I want to listen to, can I request it in advance?

If there's something specific you want to listen to, speak to one of our Gurus and we'll try our best to get those for you.
I don't know anything about audiophilia. Can I still come?

There will be plenty of people to guide you on how to listen to music on various headphone systems.
Is there a dress code for the event?

Yes, because why not! You can pick up an Audiophile T-shirt here. But don't sweat it, it's not a compulsion.
Can I change the location after registration / Will I get a refund if I cancel?

No, unfortunately, a change of location won't be possible. You could cancel your existing registration and re-register for the location you want to attend. Any cancellations would be non-refundable.
My friend just arrived in town. Can I get him/her along? Do I need to get them to register?

Yes! The more the merrier. Just remember to get them to register for the event in advance.
Will you guys have on-the-spot registrations?

No, since we've capped the event to 100 - 200 attendees, we need to ensure that we provide a firm number to our venue partners. We won't be able to take spot registrations at the venue hence.
Can I give my Headphone Connect Access Pass to my friend if I'm unable to attend?

Sure. Just tell your friend to mention that he/she will be taking your place at the Headphone Connect.
If I like something, can I buy it on the spot?

No, you can't. JK, we're an online store and you can simply pull out your phone at the event and place orders directly on our website.

Can I get my kid along? Do I need to register for him/her?

Headphone Connect is open to people of all ages. If you want to give your little one a taste of audiophilia, definitely bring him/her along! PS: Kids don't need to be registered under 12 years.
Are you extremely proud of your audio equipment?You certainly deserve a platform to share your knowledge and be appreciated for your taste of audioware and sensibilities. This is exactly what headphonezone.in, a portal for premium audio equipment is offering at The Barking Deer this weekend.
In a room full of audiophiles and hundreds of headphone gear, baby steps feel like a sensory free-fall but once you've experienced that weightlessness of your headphone zone, there's no turning back.

If tone, timbre, balance and soundstage be your life's symphony, here's some good news: no you're not alone. In fact there are many of you. And here's a meet-up that will be music to your ears -literally. Meet Headphone Connect.

The Audeze LCD-3, a headphone so good that it was dubbed as Voice of God at CES Las Vegas, will be one of the high-end headsets at Headphone Connect, a fest organised by Headphone Zone, an e-retail portal, for audio and music enthusiasts in Delhi this week.

This product is rated 4.9 of 5.0 stars.
It has received 162 reviews.
Had a great time!
Listened to amazing headphones, IEMs, combos. Met lovely people, both aficionados, and serious, enthusiastic young uns! Good fun.
Find of the day: Kaldas Research's RR1 (electrostatic). At that price...wow! Great to see homegrown companies making high-end equipment available regardless of market size. This is true innovation. Aumkar Chandan take a bow!
One suggestion (else this would have been a 5-star review) - pleeeease get a room with good wifi signal next time. One should be able to pick any rig, and freely be able to stream any song. It's a pain searching through unfamiliar lists on local drives... or having to fiddle around with OTG dongles etc.
We are glad that you took out some time and shared your experience with us. Thank you so much for the awesome review & ratings as well as for the suggestion. Cheers & Happy Listening, Aditya Kapil!
An Audiophile Paradise
Ever since I bought Blon BL-03 from HeadphoneZone, I had been looking at the Headphone Connect section on the website https://www.headphonezone.in/. As soon as the Mumbai event was available for booking I did right away for the cost of Rs. 999.
The event took place at The Leela, Andheri. The event was in a big hall enough for 100 people with tables all around. The entry was smooth with the registration desk asking for my name and giving me a wristband and sticker with my name on it. There were some audiophile stickers also available on the desk for free. T-shirts were available to buy as well. There was at least one staff available at each desk. Lady standing near the registration desk was kind enough to show me around. Left side tables had all the IEMs, and right ones had headphones.
As I was there mainly for the headphones, I went to the right side. I wanted to try out the Meze and Beyerdynamic, but they recommended trying out the expensive stuff first as later when the crowd gathers, it will be difficult to get a chance. I went to the STAX table and was talking to the staff girl about it. From behind came Raghav Somani, Founder, and CEO of the HeadphoneZone. He was a nice and humble person and explained to me certain things. As I was early, he asked me to try out the flagships from STAX, Audeze, and Focal first as they are the best, and trying them later might be difficult due to more people entering. I asked him if there is a difference between the Apple Music Lossless and Lossless High-res. He said he could not hear much difference between the two and that 192Khz is the information that is packed into the audio files and not the frequency response. I wanted to ask him a few more questions at the end of the event but I was in a hurry to leave and he was busy talking to others. My main question was whats the most value for money setup below 30k and what is the most value for money setup overall above which spending money does not give much returns in terms of sound quality.
I tried out the followings:
STAX SR009S
Audeze LCD5, LCD3
Focal Stellia
Meze Empyrean, Elite, and Liric
Hifiman HE-R9, Arya, Sundara, Ananda
Final Audio E8000
Moondrop Aria, Blessing 2
1custom Junior
Fiio FH5s pro, FS7S
Campfire audio Ara
Vision ears VE5, VE8
Lypertek Z3, Z7
Hidizs portable DAC
I liked the Focal Stellia the most. I wanted to try out the other STAX models on the table but there were always people sitting out there as many times I tried. Audeze as well I wanted to try again but was not able to. I wanted to try V Moda and Austrian Audio as well but they were not available. The staff said that I can come over to their office and try those out.
The variety of the headphones and IEMs to try out was amazing. Never in life, did we get to try so many premium audio gears with DACs and Amps costing lakhs. The experience was amazing.
I had brought along with AKG K361BT along to try out portable DACs if it makes any difference but did not get a chance. The first reason is the DACs were occupied most of the time.
The second reason applicable while trying all other headphones was the noise around. With staff explaining to the beginner audiophiles (like me), random chatter, and sound of sounds from open-back headphones, it was difficult to hear the minute sounds that I wanted to hear. I am not complaining about this as it is not possible for the organizers to provide separate quiet places and dedicated gears for trial. But given a quiet place, the experience would have been miles better.
Only wireless earphones they had it Lypertek. I would have liked it if more models like Sony WF-1000XM4 for the earphones, and Sony WH-1000XM4 or Bose QC series. I know audiophiles might not count these as Audiophile grade, but it would be worth keeping and trying for places where not everyone wants the wired planar magnetic headphones with DAC and Amp. This would have been especially helpful because the noise and the noise cancellation from these ANC headphones would have made the music sound better. Also, not everyone has the privilege in places like Mumbai to have a quiet room and listen to open-back headphones with DAC and Amp. I wish to buy open-backs but not possible for me due to the surroundings.
Even someone asks
There were mocktails being given to everyone many times, and food options were sandwiches, paneer roll, veg roll, and veg puff. Tea and coffee were also available with cookies.
Overall, amazing idea, work, organizing, and options by the HeadphoneZone team. Total value for money if you love music.
We are glad that you had an amazing experience with us at Headphone Connect, Paresh Koli! Thank you so much for taking some time out and sharing an awesome review & ratings, cheers!
Great Experience
I had a great experience with Headphone Connect Bengaluru. It was wonderful to try out some high end headphones and also a great collection of iems. At the same time, as a beginner to this audiophile community I was looking more towards to try different entry level headphones but there was only few available. Absence of Sennheisser headphones and also the very popular entry level headphones like Audio technica M50x etc was a little disappointing.
I am really thankful for making available the Shure Aonic 50 and also very happy to see some Grado headphones on your online store. I am really looking forward to the Headphone Connect event in Chennai and even though I understand the difficulty in making available the entire range of headphones you have in these events, I hope to see more beginner level headphones and also headphones from Sennheisser and AKG in Chennai event. It was very encouraging to find that it was the first headphone connect event for most of the people present. I also hope to see some wireless and tws headphones in your next events if possible. Kudos to the whole headphonezone team, everyone seem very committed and passionate and I hope your venture gets bigger and I wish great success in future for all involved.
Thank You
HI Adarsh Sasidharan R,
We are so happy you took out time & elaborately reviewed the product. We are sure this will help our customers to make an even better & informed decision.
Nice event
The visit to Headphone Connect Mumbai was a really nice experience. The vibe and excitement was palpable. It was nice to connect with fellow audiophiles and get their opinions and preferences known. Also, was nice to try out the Flagships of various world famous brands and understand why their price-points are where they are! The Meze's, HiFiMan's, Focal's, STAX, Beyerdynamic etc. were amazing. Also, the IEM space was no less crowded. Lots of interest right from the BLON's to the VE's and Campfire's. One standout for me, and also a very proud moment, was the existence of an Indian brand Kaldas/Altiat. Though they had only a couple of headphones (1 DD and 1 Electrostat) on display, the sound from those was really amazing. The only suggestion from my end would be to host in a venue where network connectivity is not compromised at any point. People would really like to connect online to their music to listen on these devices for which a robust network is a pre-req. Rest all was fine. Many thanks to Raghav for this concept. This was my first one. Hope to attend another one in the future whenever it happens.
We are glad that you took out some time and shared your experience with us. Thank you so much for the awesome review & ratings. Cheers & Happy Listening, Nishant Khanolkar!
One of a kind event
Well, this was the first HP connect in Kolkata and the first for me as well. Everything was well organised. All the staff were super helpful throughout the day. It was a good opportunity to do some networking with fellow audiophiles too.
The spread of headphones and IEMs was quite extensive. Liked the Stax setups, Hifiman HE1000Se, Heddphone. Hifiman edition XS was nice surprise at that price point. Audeze LCDX was also good. Among IEMs, not many stood out in front of my Mest MKII however. Chord Mojo 2 failed to shine with my Mest too.
Raghav and his team were very much friendly. They did not try to push any product. On multiple occasions Raghav advised us not to decide on future purchases based on that day's experience and also explained about going for value for money rather than just going for an expensive product.
One negative point, though I am not deducting any star for it, is that due to some reason only 6 HPZ guys flew down to Kolkata as against 14 for other cities so they had lot less luggage to carry, as a result many gears were left out. For example, Hifiman Susvara was absent in Kolkata. In future, I am sure they will rectify it and give the same experience to Kolkata audiophiles as in other cities.
This makes us really happy and we really appreciate the genuine feedback! We're glad that you have such positive thoughts about our team and the company.