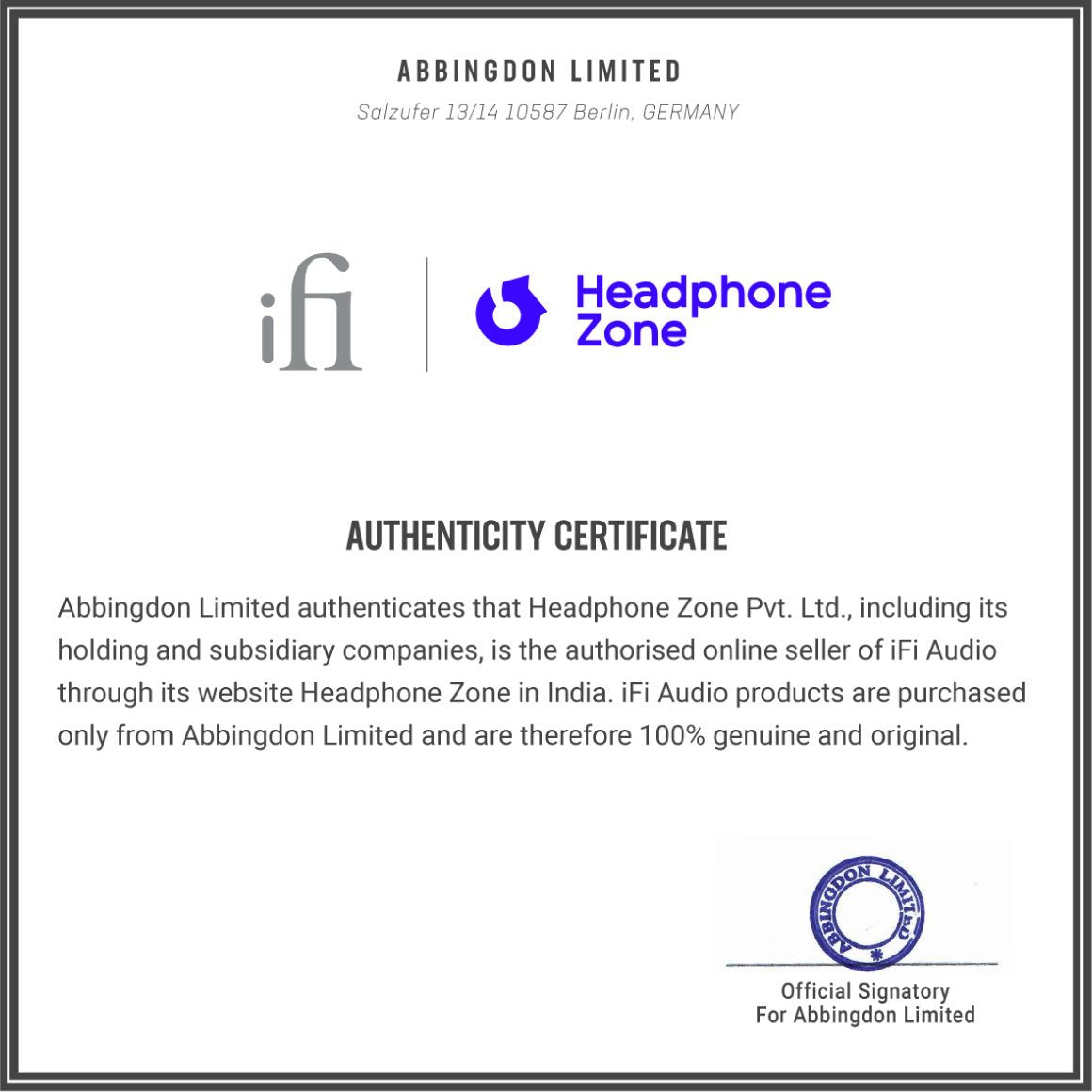 iFi Audio - ZEN DAC
---
This product is permanently discontinued and continues to live on in
Headphone Zone's Museum
.
The Museum is where we pay our respects to end-of-life, old, archived, but not forgotten products. This page was made with a lot of love and will live on for posterity. What to say, we're sentimental people. 😔
While this product is out of stock, consider...
This product is rated 4.8 of 5.0 stars.
It has received 49 reviews.
BMW with no steering :)
Bought this recently and was highly disappointed with its unbalanced output, the best way to use it with a balanced output which is a 4.4mm. There is no converter for the 4.4mm output and you cannot find one anywhere in India. You will have to get it imported from China and all shipping from Aliexpress and Banggoods is not happening. So now i am just stuck with this amazing DAC which just looks at my face and i have to look at his face and there is no solution from Headphonezone.in. Well their sale is done :) now its the customers headache.
I also tried a 4.4mm male to 2.5mm female joined to a 2.5mm male to 3.5mm female. This is just ruining the sound signature due to pole incompatibility. I hope a converter gets available. Else I am stuck with this BMW without a steering wheel.
Great DAC AMP combo for the price!
Firstly I would like to point the build quality, which is incredible. The volume knob is sooo smooth. It sounds as great as it has been built. Although the bass is a little higher than usual with Truebass turned on - for which I was skeptical at first - it simply makes it much more enjoyable to listen without it sounding any less detailed. I used to have Fiio K3 which is highly recommended as well, but zen sounds different kind of fun and immersive with Sundara. In contrast to Fiio where I had a little trouble with power output, this unit has enough power in Unbalanced out, both of which run just on USB. If you want a great combo under 15k, this should be your first choice.
Best dac amp i have ever bought
Before upgrading to zen dac amp, I was using my built in sabre dac of my clevo laptop. I always felt something was missing from built in dac. i have some experience with fiio and schiit DAC before but was not entirely happy with them. Zen is an all in one Dac that can basically fit in with all my uses.It is capable of driving my fiio x2,m560 and iem like kz zs10pro and tin t2. It is also my primary speaker dac connected to my old akai vintage sound quality. As far as its features are concerned it is one of best at its price point not going to ellaborate on that but the soundquality is what gor me surprised. It is one of the cleanest dac amp i have heard in my life. The amp section is great for most of the mid fi headphones and iems out there. It has its limits though and i could hear it when i push the volume dial to its limit. Include bass boost option is nice as well just giving the right amount of bass without messing with the rest of signal.Overall I think Ifi has given a dac that punches way above the price point
Thank you so much for sharing this elaborate review with us.
Amazing DAC
Hello All,
Its been a good buying experience with Headphone Zone, the delivery was quick and the products is also untouched.
Coming to the quality of the product- it feels like heavy duty material, fits and finishes are nice. Very good balanced sound quality.
Couple of important point to share->[Tested only with the RCA out to my AVR]
1>it does not come with latest firmware so updating the latest firmware(GTO version) is recommended, read the instruction before updating...be careful while you do this. -- Link to download https://ifi-audio.com/downloads/
2>The sound quality is good without the update, its more of warmer sound signature with limited sound stage, but when I update the firmware the experience is amazing , it has got much detailed and crisp output, the sound stage widens up, its actually better than my AVR internal DAC.
3> if you want little more juice add 5v power supply(not available out of the box), the sound quality further enhanced for me.
4> The pre-amp is also good, the true base produce tight and subtle bass- never knew my speaker is capable of producing that deep bass :)
but my personal preference is the direct sound bypassing the pre amp circuit, enjoying every bit of it.
Thank you and have a great time.
Sounds great
It's good. It will be better and great if Headphonezone along with reviewing products on YouTube, do a tutorial about the connections etc.