Sennheiser - IE 300
In-Ears With 1 Dynamic Driver
GET AN INTIMATE LISTENING EXPERIENCE WITH LARGER-THAN-LIFE SENNHEISER AUDIOPHILE SOUND
Driving the energy from its enhanced Extra Wide Band (XWB) 7mm transducer, the Sennheiser IE 300 delivers excellent acoustic performance in a compact form factor. With an upgraded diaphragm on these earbuds, you get to experience better rest-and-response times leading to accurate sound reproduction. Reduced resonances, better speed add more clarity to the highs, mids, and bass with low levels of harmonic distortion. Play your favorite songs in master recording and enjoy detailed vocals with tighter transience and without frequencies sounding too harsh. Designed and developed in Germany, these in-ears reproduce sound that is exclusive to Sennheiser's audiophile legacy..
A GO-TO IN-EAR EARPHONE FOR SOUND QUALITY THAT MATTERS
Managing the airflow behind the transducer is key to excellent balanced acoustic performance. The Sennheiser IE 300 achieves this with the back volume—a small chamber within a chamber. This also helps to take precise control of the direction and volume of air delivering clear bass and mid-range frequencies. A dedicated frequency-absorbing resonator chamber is employed to revive the subtle nuances of sound.
REDUCED AMBIENT NOISE FOR FATIGUE FREE HI-FI MUSIC LISTENING EXPERIENCE
Bring your music to life with a hi-fi music listening experience. With the Sennheiser IE 300, you get a personal, expertly tuned listening earphone at your convenience. These in-ear earphones are designed to give you complete control of your music while shielding you against ambient noise. This helps you to reduce ear fatigue and lose yourself to music for extended hours.
COMPATIBLE WITH A HOST OF AUDIO DEVICES WITH MULTIPLE CONNECTIVITY OPTIONS
To offer dependable compact earphones, Sennheiser engineers have designed gold-plated fidelity and MMCX connectors offering durability and contact integrity. Placed within a recessed, 4.8mm-wide socket, it offers better performance. You can connect the Sennheiser IE 300 to digital audio players, headphone amp-DAC combos, laptops, mobile phones using the para-aramid reinforced cable and a range of outputs including a stereo 3.5mm / ⅛-inch plug, a balanced 2.5mm and a 4.4mm output (sold separately).
AUDIO SPECIFICATIONS
| | |
| --- | --- |
| IMPEDANCE | 16 Ω |
| TRANSDUCER PRINCIPLE | Single Dynamic Driver, Pressure Chamber |
| SOUND PRESSURE LEVEL | 124 dB (1 kHz / 1 Vrms) |
| FREQUENCTY RESPONSE | 6 Hz - 20 kHz |
| THD | < 0,08 % (1 kHz, 94 dB SPL) |
CONTROLS & CONNECTIVITY
| | |
| --- | --- |
| WIRED CONNECTIVITY | 3.5 mm |
| MIC & REMOTE | No |
| COMPATIBILITY | Universal |
DESIGN & BUILD
| | |
| --- | --- |
| EAR COUPLING | In-Ear |
| CABLE LENGTH | 125 cm |
| WEIGHT W/O CABLE | 4 g |
IN THE BOX
| | |
| --- | --- |
| BOX CONTENTS | 1. Sennheiser IE 300 earphones |
| | 2. Cable with MMCX connectors and 3.5 mm plug |
| | 3. Silicone & Memory Foam Sets (S, M, L) |
| | 4. Carry Case |
| | 5. Cleaning Tool |
| | 6. User Manuals |
OTHER DETAILS
GENERIC NAME
Headphones
COUNTRY OF ORIGIN
China
IMPORTER DETAILS
Importers Name: Sennheiser Electronics India Pvt. Ltd.
Address: 104 A, B, C, First Floor, Time Tower, M.G. Road, Sector-28,Gurugram,Haryana-122002
Contact No: 1800 22 3632
NET QUANTITY
1
The Sennheiser Spirit
Sennheiser is determined to design and develop one-of-its-kind music experiences for its customers to enhance the future of audio. As a company which is led by the third generation family, Sennheiser takes pride in its rich history and achievements while being ambitious about making its humble contribution in improving the future of the audio world.
The History of Sennheiser
Sennheiser made its humble beginning in 1945 and was founded by Fritz Sennheiser as a venture which in today's time is known as a 'start-up'. It all began in a farmhouse near Hanover. After realising the potential of highly growing business opportunities, applying the expertise and experience of his scientific career he started the company to meet the rising demand of measuring devices and microphones. The story of innovation which started then continues till date. Even today if you visit Sennheiser headquarters for listening sessions, product support or to get a factory visit you can sense their passion and unending energy for excellence and innovation.
The Sennheiser Vision
The one thing that connects Sennheiser employees and associates around the world is its vision. A vision of developing never like before sound experiences that would prove instrumental in shaping the future of the audio world. Sennheiser has always been a very customer-centric audio company. Sennheiser also understands that the first step for any music listener is to trust the audio equipment and that is precisely why they are focused on delivering reliable audio products. At heart, Sennheiser is a team of audio enthusiasts who employ technology to make you reach new dimensions of the audio world for an unforgettable sound experience.
Sennheiser comes with a 2-year warranty. Read more on
warranty claim
here.
Yes, the Sennheiser IE 300 is fully compatible with Android and iOS devices.
No, the Sennheiser IE 300 believes in minimalism. Also, what is a remote when compared to the gorgeous sound it offers
The Sennheiser IE 300 comes with single dynamic driver.
Yes, the Sennheiser IE 300 comes with detachable MMCX connectors. That means you can replace the stock cable with a balanced cable to open up the sound further.
Yes, you do get a carry case in the box with the Sennheiser IE 300.
2 Year Warranty
Don't sweat it, this Sennheiser - IE 300 comes with a warranty from Sennheiser that covers manufacturing defects. All products featured on Headphone Zone are backed by an original manufacturer's warranty.

Read more about Sennheiser's warranty in India.
HFN Recommended
Headfonia
Feb 2021
YouTube Reviews
Watch the most popular YouTube reviews for the Sennheiser - IE 300
Fantastic Sound, Tiny Package!
It has a fantastic Sound with a very V shape sound so don't expect good mids. If possible get the IE400's from Sennheiser as they're at the exact price as these
With that said, after a few hours of burn in (4-6 hours) they sound less piercing/sharp and is more smooth and comfortable to listen to. modern electronic/pop sounds best with these as well as orchestra music like Nightingale by Yanni. The instrument separation is concise and clear and with some tracks it gives you a kind of mini soundstage although an intimate one. Great buy at 30k Thanks HPZ!
Paired this IEM with Helm Bolt DAC
Thanks a ton for sharing your review with us.
Drop the Bass
OMG This just sounds amazing. I cant help but start giggling like a teen whenever i put this earbuds on. Of-course this is a warm sounding which means they are bassy buds but The bass response is super clean, super smooth n super fun. The bass doesnt bleed into the vocals making it sound muffled nor does it sound bloated . Its deep and tight.just like the friendship between dead pool and colossus. Apart from the bass this IEM has nice treble response. But you can definitely notice a roll off at around 10k hz but dont be alarmed there is enough and more detail on the top end. moreover you don't feel the piercing harshness of the highs and this helps you to keep listening for a long duration of time without having ear fatigue . However you can definitely appreciate the shimmer and might i say some exaggerate hissing or "s" noises also known as sibilance . But what it lacks is the emephesis of the frequency range between 2-6k which is responsible for adding presence to vocals and a result the vocals dont shine through whenever the vocalist is surrounded by too many instruments.
But what's interesting is Despite this boosted bass, the lower mids don't sound muddy. They have a neutral clean and a linear response. However the overall midrange is not super forward and for context our vocals do fall in this midrange frequency . So this is definitely not an IEM or earbud for those you love their mids.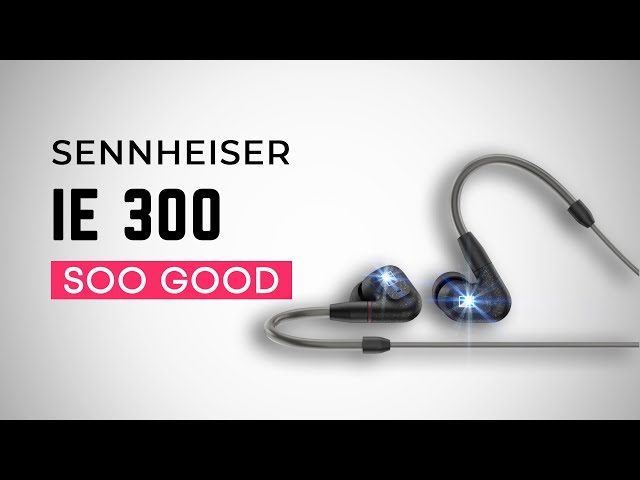 IE 300 & IE 900
This is a review of both the IE 300 and the IE 900. I'll copy paste it in both sections.
Firstly, accessories (ear tips and cables) are a massive middle finger from Sennheiser to the buyer. The included silicon tips are absolute bottom barrel trash. They can not seal for me and while pulling one off the IEM it ripped the tip from the stem. The foam tips are useful and help me get a good seal, but I'm using them sparingly, because, like all foam tips they won't be too long lived. Replacement tips?
The cable is sticky, tangly, fights you at all times. The cables of the 900 feel a little softer and less sticky, and there are 3 of them, but still these are far form decent for the price. Sourcing a good replacement cable will be a problem because of the non standard termination. I have bought a replacement cable "Tiandirenhe cable for IE 300, 600 and 900". It feels flimsy and cheap, and I'm not hopeful as to it's longevity, but that cable in feel is a humongous upgrade. I fail to see how a leader in the audio industry is so clueless. I was reading a discussion on a forum where Sennheiser reps., on being asked if they could recommend a replacement cable asked a person what the problem with the stock cable was.
Both the IE 300 and IE 900 are comfortable and after trying different ear tips I've found the best ones for me are the included foamies and Spinfit CP100 plus. It's unfortunate Hpz doesn't sell the CP100 plus. Also sourcing the original foam tips might be a problem. The seal is fidgety and while I can maybe attribute that to my ear shape being wrong, these aren't my first IEMs.
Sound is simple. both of these are basically detailed, pleasant with a good amount of bass. Having said that The IE 900 is FAR better than the IE 300s. More resolution, better imaging/ staging and bass. So much so that IMHO the IE 300 are bad value at their price and the IE 900s, while not good value get a pass because the summit fi section has insane pricing anyways.
In fact I thought my IE 900s were broken and were imaging off centre because of the extreme positioning capability. I sent them in for warranty and they returned them saying its fine. I was still not convinced and as a final resource played tracks on mono. the image was dead centre. Basically when you have multiple vocalists close to centre, the IE 900 can locate them precisely.
This review sounds ranty, and that's unfortunate. The headphones are good but are let down by the absolutely trash accessories. They could learn a thing or two from brands like Fiio. At least the carrying boxes are pretty.
Bottom line. IE 300s, OK, but 10k chi-fi is competitive. IE 900s, GOOD. They know it and have priced them accordingly.
Similar Wired Earphones You May Like
OUR HEADPHONE GURU'S TOP RECOMMENDATIONS FOR YOU
More From Sennheiser
OUR HEADPHONE GURU'S TOP PICKS FOR YOU
UPCOMING EVENTS
COMING TO A CITY NEAR YOU!
Get ready to put on some headphones, grab your mugs and rediscover your favourite music like never before. With a lineup of the world's finest headphones, food, beverages, music and conversations to share with friends and strangers alike, Headphone Connect is back!
Welcome To Our Headphone Finder
Meet our Headphone Gurus.
They obsess over every headphone so you get the perfect one. They have spent years reviewing & listening to countless headphones every day. Our Headphone Gurus are the go-to guys for everything audio.

Our Headphone Finder puts together their top recommendations. In 4 easy steps, find the perfect headphones for you.